The Process of Making Indonesian Batik Motifs
Types of Batik Motifs in Indonesia. Initially, batik was created using a white cloth made of cotton (mori cloth). Along with the development of the era, the process of making batik fabrics can also use cotton, silk, rayon, polyester, and other synthetic materials. The variety of batik motifs itself is created using wax liquid with the medium of tools, namely canting for fine motifs, and or brushes for largely batik tulis motifs, then the wax liquid will be also to absorb well into the fibers of a fabric.
The fabric that has been painted using canting is then dyed for coloring as is the case with other Javanese batiks.
Also read:
Sumatran batik: Aceh batik, Riau batik, Jambi batik, Lampung batik,
Jabodetabek batik: banten batik, Betawi batik,
West Java batik: Tasikmalaya batik, indramayu batik, cirebon batik, ciamis batik,
Central Javanese batik: Pekalongan batik, Semarang batik, Solo batik, wonogiri batik, Yogyakarta batik,
East Java Batik: Blitar Batik, Malang batik, Jember batik, Madura batik,
East Indonesian batik: Balinese batik, Kalimantan batik, Papuan batik
This dyeing process usually begins with using light colors which is then the process of dyeing older colors to obtain a darker fabric color motif. After several batik fabric dyeing processes, the batik cloth is dipped in a chemical solution to dissolve the wax. To enrich our insights in getting to know various kinds of batik motifs in Indonesia, the following are the kinds of batik in Indonesia based on motifs/patterns:
Keraton Batik Motifs
Keraton batik is a batik wastra that uses traditional patterns that develop in palaces located on the island of Java. A variety of batik patterns are written with an amazing combination of art, outlook on life, customs, and the personality of the palace environment that gave birth to it. This Palace Batik was originally made only by the king's daughters and his courtiers and was only intended for the king's family. Furthermore, it developed into an industry managed by merchants and began to develop outside the Kraton in the form of Sudagaran batik and Rural Batik. Keraton Batik comes from Jogjakarta Sultanate, Kasunanan Surakarta, Mangkunegaran Temple and Pakualaman Temple. The main difference between the four Kraton Batik lies in the shape, size, patra, and shades of soga (brown) color.
Cuwiri Batik Motifs
It is a batik motif that uses natural soga dyes. Once upon a time, the use of this cuwiri batik motif marked a high degree of degree for the wearer and/or was only used for certain traditional ceremonies, such as for the mitoni ceremony, a Javanese tradition used to commemorate the gestational age of 7 months. Also, this cuwiri batik motif is used to hold Baby. This cuwiri batik is also commonly used for kemben and semekan. This cuwiri batik motif predominantly uses elements of gurda and meru. The word Cuwiri itself has a small meaning, and it is hoped that the wearer is appropriate, harmonious, and respected by the Javanese view of life, namely prosperity and goodness.
Pringgondani Batik Motifs
The name of pringgondani batik is taken from the name of his residence Gatotkaca son of Bimo / Werkudara. This pringgondani batik motif usually displays dark patterns such as indigo blue (indigo blue) with brown natural soga filled with tendrils or small grooves combined with dragons.
Motif Batik Sekar Jagad
This batik is one of the best batik motifs typical of Indonesia. This sekar jagad batik motif has the meaning of beauty and beauty for the wearer so that other people who look at it will be very fascinated. There are several opinions if the Sekar Jagad batik motif comes from a word taken from dutch and Javanese, namely "kar jagad" (Kar means PETA; Jagad means WORLD), symbolizing the diversity of the whole world but one soul (united). The average Sekar Jagad batik motif has floral nuances.
Another opinion says that the batik motif of Sekar Jagad comes from the word sekar dab jagad. The word sekar has the meaning of flower and the word jagad has the meaning of the world. Based on the combination of these words, what is reflected in the name of this motif is a collection of flowers/beauty/happiness of the world. This sekar jagad batik motif is also a geometric loop with the ceplok stacking method (paired side by side), which has the meaning of nobleness and beauty of life in the world. The batik motif of sekar jagad began to develop in the 18th century.
Motif Batik Sida Luhur
Batik motifs that have the prefix sida (read sido) are a group of batik motifs that are widely made by batik makers. The word "eunuch" itself has the meaning of being/being/being/being carried out. Thus, the batik motif that begins with "sida" contains the hope that what is desired can be carried out. The Sida Luhur batik motif (read Sido Luhur) has the meaning of hope to be able to achieve a high position and can be an example or role model for the community.
There is a myth about making Sido Luhur batik motifs which demands the maker, starting with holding your breath for a long time. The Sido Luhur batik motif was made by Ki Ageng Henis, who was the grandfather of Panembahan Senopati who was the founder of the Javanese Mataram kingdom, and the grandson of Ki Ageng Selo. It is said that this Sido Luhur batik motif was specially made by Ki Ageng Henis to be given to his children and descendants. His hopes and prayers are that the wearer can have a noble heart and mind so that it can be useful for the country and society.
The philosophy of the meaning behind the batik motif written by Sido Luhur means the success of developing, and perfecting oneself into an intelligent and virtuous human being who always prays, remembers, and gives thanks to Him. The sidoluhur batik motif is a batik motif worn by the bride and groom during the wedding. This batik motif comes from the Ngayogjokarto Hadiningrat Palace.
Kawung Batik Motifs
Kawung batik motifs have a sphere pattern similar to Kawung fruit (a type of coconut fruit often also referred to as kolang-kaling fruit) which is neatly arranged geometrically. Batik writing kawung batik motifs can also be represented in the form of lotus flowers with four leaves from lotus flowers that are being woven. The form of lotus motif is a flower that symbolizes long life and purity. Kawung writing batik motifs are generally named based on the size or size of the large-small round-oblong shape in the motif. For example, Kawung Picis batik motif is a kawung batik motif that is composed and arranged by a small sphere groove shape. The word Picis comes from a currency worth 10 cents which are relatively small in shape. While the Kawung Bribil batik motif is a kawung batik motif that is composed or arranged by a shape that is relatively larger than the Picis kawung batik motif. As the name implies, bribil, is a currency whose shape is relatively larger than picis and has a value of half a cent. Based on its shape, the kawung batik motif which has a round-oblong shape that tends to be larger than the Kawung Bribil batik motif is called Kawung Sen.
Motif Batik Semen Rama
Batik tulis semen rama is often interpreted by Indonesian batik lovers as a form of a "semi-life" (the word semi means prosperous or developing). There are several main types of ornaments on cement batik motifs. The first, are ornaments that have a connection with the mainland, such as four-legged animals or plants. Second, ornaments that have a connection with the air, such as birds, garuda, and megamendung. Third, ornaments that have a connection with the sea and water, such as fish and frogs. These types of ornaments are most likely related to the triloka or Tribawana principle. This principle is a teaching about the existence of three worlds, namely the middle world where people live their lives, the upper world, or nirvana is the abode of gods and saints, and the underworld which is the place where people's paths of life are filled with wrath. In addition to having this meaning, the Semen Rama batik motif (read; Semen Romo) itself is often connected to the story of the Ramayana story which is full of the teachings of Hastha Brata or the sacred teachings of primacy that are traversed by eight paths. This teaching is primacy advice from a Ramawijaya to the Wibisana when he is crowned leader or king in the kingdom of Alengka. So the word "Semen Romo" means the main trait that should be possessed by kings or leaders of the people.
Motif Batik Sida Asih
Sidoasih Batik motifs are included in one type of kraton batik. Sidoasih batik comes from the Javanese language namely "sido" and "asih". The word "Sido" has a continuous/finished/continuous meaning. While the word "asih" has the meaning of affection. So that Sidoasih batik can be interpreted as a symbol of a human life full of love and affection, calming human life in the world and the hereafter.
In Javanese customs, Sidoasih batik is often used at weddings, where the batik cloth with the Sidoasih motif is used as a bridal night dress. By wearing the Sidoasih batik motif, the bride and groom hope to be able to live their new life more harmoniously, and more romantically full of love.
Motif Batik Sida Mukti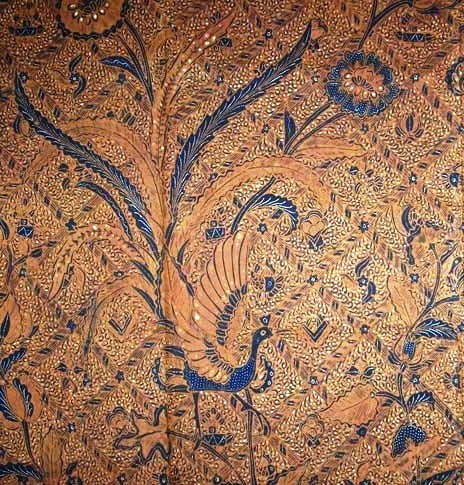 sidomukti boket batik – various kinds of Indonesian batik motifs
SidoMukti Batik motif is a batik motif made from natural soga dyes. Often it is used for bridal attire in wedding ceremonies. The elements of the sidomukti batik motif contained in it are the gurda motif. Motifs that have the prefix sida (read sido) are a type of motif that is widely used by batik craftsmen. The word "eunuch" itself has the meaning of so/to be/carried out. Thus, the type of batik that has the prefix "sida" contains the hope that what is desired can be carried out. One of them is batik sida mukti, which has the hope of achieving physical and mental happiness.
Motif Batik Tambal
The word Patch means to patch or repair something that is broken. In a process of life's journey, man must be able to introspect himself or improve himself to lead to a happier life, both physically and mentally. A long time ago, the patchwork batik motif cloth was believed to be able to help the recovery of people who were sick. One way is to envelop the sick person with a batik cloth with a patchwork motif. This myth or belief of the Javanese people arises because people who are sick are considered to have something "that is lacking", so for the treatment process, it needs to be "patched".
Sudagaran Batik Motifs
This type of batik is a prohibition motif from the residents of the palace, so it makes artists from merchants create a new motif that suits the tastes of the merchant community. They also changed the motives of the prohibition so that they could be used by the general public. Sudagaran batik motifs generally have a "bold" impression in the choice of colors and shapes, the use of natural objects or animals, as well as the combination of dominant color patterns with soga and dark blue colors. This Sudagaran Batik motif presents qualified quality in the batik work process and its level of complexity in presenting a variety of new designs. Sudagaran batik craftsmen make creations on palace batik by adding isen-isen which is quite complicated and filling it with cecek (spots/dots) to add a more beautiful batik impression.
Farmers' Batik Motifs
Farmer batik motifs are a type of batik that is made as an interlude or side job for housewives at home when they don't go to the rice fields or when they are free time. The resulting batik is rougher and has stiff accents and is not smooth. Farmer batik motifs for generations will adapt to the characteristics of the culture of their respective regions and also this farmer batik is usually done by housewives traditionally because it is only used to fill free time. For how to color, it also follows the pattern of sudagaran batik.
BATIK MOTIFS