The island of Bali is one of the most popular tourist destinations in the world because it has stunning natural and cultural beauty which is used as one of the inspirations for making batik. Many Balinese batik motifs are inspired by local designs, which are highly favored by Balinese themselves and domestic tourists alike. Objects from Balinese nature such as frangipani and hibiscus flowers, birds, or fish, as well as depictions of daily activities such as Balinese dancers and cremation processions or religious and mythological creatures such as barong, kala, and winged lions in general. Modern Balinese batik artists express themselves freely from various perspectives.
Contemporary Balinese batik is not limited to traditional culture or just the ritual of wearing batik in Bali. Some designers promote Balinese batik designs as elegant fabrics that can be used to make casual or formal fabrics. Using high-class batik is characterized by wearing batik tulis cloth to show one's social status.
History of Bali Batik
The Balinese batik industry started around 1970, and was pioneered by, among others, Pande Ketut Krisna from Banjar Tegeha, Batubulan Village, Sukawati Gianyar, Bali. At first, Ketut Krisna still used the stamped batik technique with the help of a manual loom or commonly called a Non-Machine Weaving Tool.
The Balinese themselves use batik cloth in various activities that are closely related to traditional ceremonies or religious rituals, namely the batik cloth tied to the waist is also used as a headband, or in Balinese, it is termed udeng.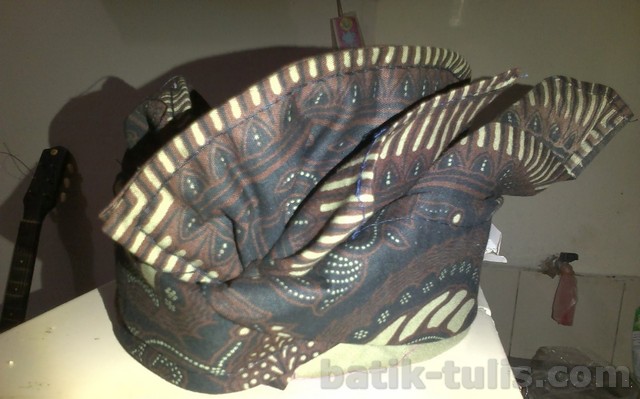 Along with its progress, Balinese batik has not only transformed into a headband but has become a souvenir or collectible item that can be owned by anyone. Balinese batik motifs are very diverse and have superior creativity, making tourists want to collect batik. This is evidenced by the extraordinary market response and the growing popularity of Balinese batik. Balinese batik continues to grow by adding new motifs that tend to be abstract, such as cloud motifs and Wayang Beber temple reliefs.
If we define Balinese batik, it is a batik that comes from the area of ​​Bali with a style like the one above. Quite a lot of batik actors in Bali have started to take strategic and innovative steps to avoid the level of consumer saturation in batik. For example, by combining Balinese batik motifs with batik motifs originating from outside Bali, namely by combining Balinese batik motifs and the Eifel tower pattern which symbolizes the French State, or combined with the kangaroo motif which is a characteristic of Australia.
For batik lovers, this is a new product that deserves to be collected and reported to the wider community so that Balinese batik is more developed and becomes one of the mandatory souvenirs when visiting Bali.