Recomendations Batik Shop in Jakarta – Jakarta is the capital city of Indonesia as well as the center of government and economy. Jakarta is also the most populous city in Indonesia, therefore there are many shopping centers in this city. People outside Jakarta make this city a shopping destination. One of them is batik shopping. We can know that batik is a cultural heritage and has become the cultural wealth of the Indonesian nation. Jakarta has a distinctive batik, namely Betawi batik, there are several Betawi batik motifs such as the Salakanegara motif, the Nusa Kelapa motif, the Ondel-Ondel and Tanjidor motifs, the Ondel-Ondel Pucuk Rebung motif. Betawi batik is not as popular as batik in other areas on the island of Java, but the motif is no less interesting than other batik.
In the city of Jakarta, there are many factories and home industries that produce batik. Every corner of shopping for clothes in the city of Jakarta, there must be batik that is in demand, because now people are starting to use batik in both formal and non-formal events. However, it should also be noted whether the shop sells batik with good quality or not. We batik-tulis.com will provide recommendations for Jakarta Batik Shops with shops that provide quality batik products at relatively low prices.
Batik Keris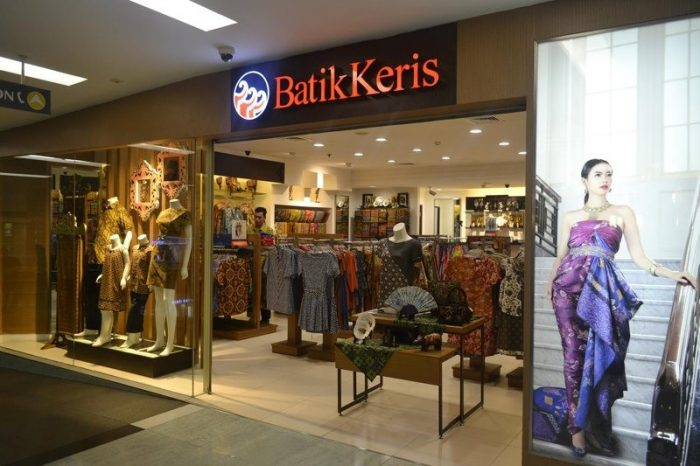 The first recommendation is, of course, at the Batik Keris shop, which is well known everywhere and has many branches in Indonesian cities. This shop provides a complete range of batik clothes. Not only batik clothes here also sell souvenirs and handicrafts. The price of batik here also varies depending on the materials used. Batik fashion here is also contemporary and there are always new innovations. Therefore, this Batik Keris shop is very famous and has many visitors. This shop is open Monday – Friday from 10.00 – 22.00 WIB, Saturday – Sunday open from 09.30 – 21.30 WIB. There are several branches in Jakarta which are located at:
Jl. HOS. Cokroaminoto No.87, RT.3/RW.5, Menteng, Central Jakarta City, Jakarta 10310
Pondok Indah Mall 2 Lt.2 No.225, Jalan Metro Pondok Indah, RT.1/RW.16, Pd. Pinang, Kec. Kby. Lama, South Jakarta City, Special Capital Region of Jakarta 12310
Central Park, Jl. Lt. Gen. S. Parman No.28, RT.12/RW.6, Tanjung Duren Selatan, Grogol Petamburan, City of West Jakarta, Jakarta 11470
2. Bakul Batik
This batik shop also provides batik clothes that are no less complete, men's and women's batik clothing complete with a collection of tops, bottoms, shirts, dresses, nightgowns, negligee, and many more. This Batik Bakul Shop is located at:
ITC cempaka mas, RW. 8, Sumur Batu, Kec. Kemayoran, Central Jakarta City, Special Capital Region of Jakarta 12510
Tanah Abang Market Block A 2nd Floor, Jalan Kh. MAS Mansyur, Tanah Abang, Kp. Bali, Tanah Abang District, Central Jakarta City, Special Capital Region of Jakarta 10260.
Mall Artha Gading , JL. Boulevard Artha Gading Selatan No. 01 , Kelapa Gading Barat, Kelapa Gading, 14240 North Jakarta, DKI Jakarta, RT.18/RW.8, West Kelapa Gading, Kelapa Gading, North Jakarta City, Jakarta 14240
Operating Hours : Monday – Sunday 10.00 – 22.00
3. Bateeq
This Bateeq shop is also one of the shopping centers in Jakarta. This shop offers contemporary batik fashion and produces a lot for fashion show purposes. Here, you can also order batik for office wear or for certain occasions. Batik products here are also relatively dependent on materials and motifs. This shop is open from 10 – 20.00 Monday – Sunday. You can visit some of the Bateeq shops below:
Plaza Indonesia, Jl. M.H. Thamrin No.28-30, RT.9/RW.5, Gondangdia, Kec. Menteng, Central Jakarta City, Special Capital Region of Jakarta 10350
Cibubur Junction, Jl. Jamboree No.1, Cibubur, Kec. Ciracas, East Jakarta City, Special Capital Region of Jakarta 13720
Place, Jl. Gen. Sudirman No.52-53, RT.5/RW.3, Senayan, Kec. Kby. New, City of South Jakarta, Special Capital Region of Jakarta 12190
That's the recommendation of the Jakarta Batik Shop. If you are traveling or are in Jakarta you can visit these shops. For articles from other cities, you can visit our website. Write in the comments column if you need recommendations in other cities.